Young Actresses in Historical Plays
I've picked up historical plays which popular Hollywood actresses played a roll.
---
Elly doesn't see historical plays so much, but I am so attracted to the dresses the actresses are wearing in the plays, they look so nice and gorgeous! Also I can't miss their makeup, they don't use bright colors and I can see techniques which show up the shades on their face. I often learn them to make up my flat face.
Keira Knightley in Anna Karenina
"Anna Karenina" by one of the greatest literary figures in Russia Tolstoy, was released in 2012. Keira plays the main character Anna, who falls in love with young aristocratic officer though she has older husband. Though her clothes are modest as she plays a wife in 19th Russia, Keira is totally beautiful! She is so thin and boobless, so girls like Keira can find many tips for dressing.
Mia Wasikowska in Jane Eyre
"Jane Eyre" is made into movie many times. Mia Wasikowska, who played the main roll in 2011 version really matches the character, who is not beautiful but strong-willed. She usually wears modest clothes, a one piece with white raced collar suits very good to her.
Nicole Kidman in The Portrait of a Lady
Nicole Kidman played the main roll when she was 29 in "The Portrait of a Lady", the movie based on 19th Britain and Italy. In the movie she is waiting for her man and she looks so sorrow, and her dressed figure which is tightened with corset looks as the expression of her sadness.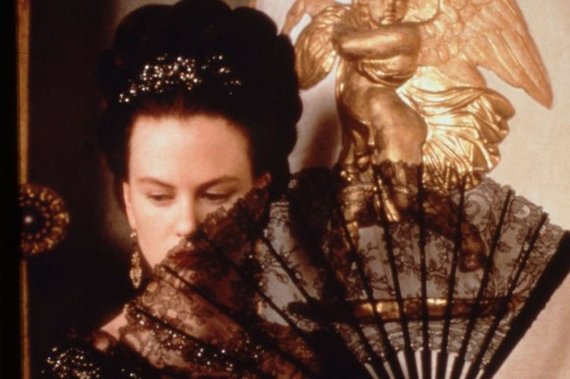 Emily Blunt in The Young Victoria
We often see Emily in modern plays like "Snow White" and "All You Need is Kill", but she has played young Queen Victoria, who became the queen when she was 18. You can't miss the gorgeous clothes and lots of jewelies.
Scarlett Johansson in Girl with a Pearl Earring
Everyone has seen this famous picture once, "Girl with a Pearl Earring" by Vermeer. The movie was made from a novel which got inspiration from this picture, and Scarlett Johansson played the mail roll. At that time her image was not so much dynamite sexy she wore really modest clothes in the movie as she played a house lady. She was 20 when she played the role and her skin is so beautiful!
I think actresses have to play a role in historical plays if they wish to become a big star. Though it takes time to wear the historical dresses and they are hard to move, Elly really wants to wear the classical dresses with corset when I see these movies.