Very popular overseas, the sneakers of Onitsuka Tiger
Onitsuka Tiger, a brand where they also sell models limited to overseas stores. On the contrary, tourists to Japan will also look for models limited to Japan.
Everything started here. Uma Thurman's Tracksuit x Onitsuka
The first time that Onitsuka became the focus of attention was during the 2003 movie "Kill Bill" directed by Quentin Tarantino. The yellow tracksuit worn by the main lead Uma Thurman and the "TAI-CHI" model by Onitsuka left audiences with a deep impression.
There was also a collaboration model with COACH in the past
In 2014, a collaboration with American brand COACH was announced. This line used Onitsuka's top model, the "NIPPON MADE" series of basketball shoes as a base, and sold over 1700 pairs overall domestically and overseas. It became a premium collaboration.
Jared Leto is also an Onitsuka fan
Jared Leto, familiar to audiences as Joker from the "Suicide Squad", is not just an actor, but is also known for being the vocal of his own band, Thirty Seconds to Mars. Typical of a rock musician, a unique fashion style is Jared's forte, and he is a regular user of Onitsuka. He gets followed around by the paparazzi regularly.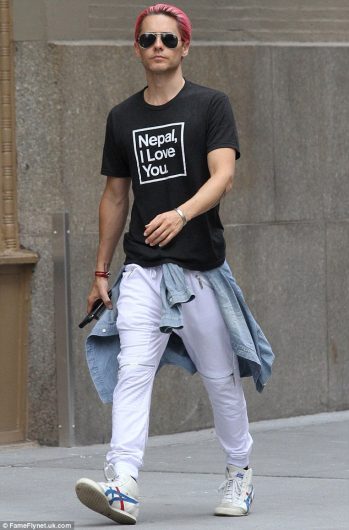 Believe it or not, even Prince William!
Please take note of the feet of Prince William, who was enjoying a walk with Catherine, Duchess of Cambridge in Edinburgh, Scotland! While this is the same model as the one Jared Leto has, the shoes give off a totally different feel with the elegant coordination.
The only shop is located in a fashionable area of London
Onitsuka's only shop is located in an area that is considered fashionable even in London, near where the flagship store of the London brand "Liberty", famous for its floral prints, is located. If you're in London for a trip, do look out for the models limited to the shops located overseas!
The shops of Onitsuka Tiger have been picked up to the extent that it is not an exaggeration to say that it is certainly in the tourism guides and sites about Tokyo that are published overseas. We would like to introduce the overseas popularity of the wildly popular Japanese brand.