Dream team up now comes to real! Chalotte Olympia × Globe Trotter
CHARLOTTE OLYMPIA, the brand of KITTY FLATS collaborated with the traditional luggage brand, GLOBE TROTTER! Pick up items are here.
---
CHARLOTTE OLYMPIA, the Brit punkish mood brand make collaborate with GLOBE TROTTER, the one of the traditional luggage brands. You can never tell what it will be the collaboration of these two, and yes, Elly is super anxious here too!
Kitty flats? You mean CHARLOTTE OLYMPIA!
You may never hear of Charlotte Olympia but I can guarantee that you have seen her signature, KITTY FLATS, the flats with embroidered kitty on its toes! You can find your kitty, ONLY YOURS, from wide range of color variations. Emma Roberts and Jessica Alba are big fans of the brand and of course, Elly loves those flats too!
What a luxury luggage! For shoes ONLY!
They launched 3 items in this collaborated collection, and the top featured item is the luggage trolley type shoes bag! It's all girls dream that put your favorite shoes and jet set around the world, am I right?
Glamour on the go. An eight-compartment shoe case forms the centre of our new capsule collection, created in collaboration with luxury accessory designer.
Charlotte Olympia, the designer of the brand visited Japan on launching party.
On April 5th, Charlotte Olympia Dallal visited Japan and attended to the launch party at Matsuya GINZA, the one of the high classed department store in Japan.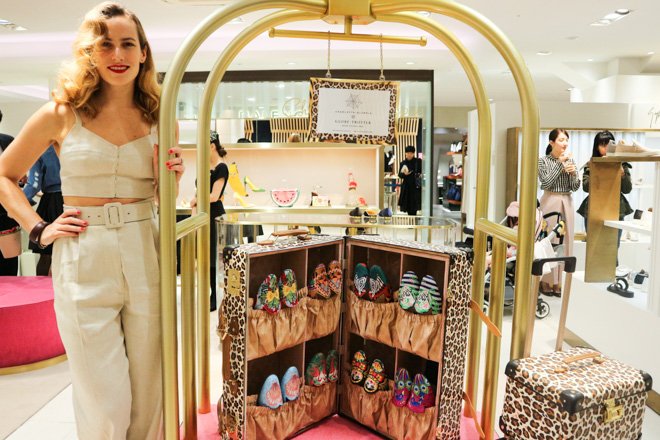 Special collection to celebrate this collaboration!
The brand also launched the special collection to celebrate this collaboration. You can see "wish you were here" collection in the collaborated shoe bag trolley. The flats with fine embroidery, was inspired by places all over the world. They launched these 3models in Japan.
Official Page
https://www.charlotteolympia.com/en/