The sweets good for gifts you can find in Akasaka
Akasaka, a town for adults, has many sweet shops good for a gift you can bring to a formal occasion. I made a summary of sweet shops recommended.
---
Don't you get trouble when you give some sweet gifts to elderly people or people who always take care of you since you need to carefully choose it comparing to in the case of giving it to your friends? In this occasion, Elly often buys sweets at the shops around Akasaka. Did you know there are actually many old sweet shops in Akasaka? Let Elly introduce you the shops recommended.
Everyone loves it! Fruit sandwich of Fru-Full
Fru-Full is a popular fruit parlor in Akasaka which makes a row of customers queuing up outside the shop in the weekend. Actually, the fruit sandwich, one of their special products, can be taken out. Since it will be packed in a plastic pack, it won't get out of shape. This is a typical gift for Elly to make both of adults and children grateful.
Shop Information
フルフル 赤坂店 (Fru-Full) – 赤坂/フルーツパーラー [食べログ] https://tabelog.com/tokyo/A1308/A130801/13155288

110 years after the foundation. Akasaka mochi from old Japanese sweet shop "Aono head store"
Speaking of a popular sweet of Aono, it must be Akasaka mochi which is mochi kneaded with walnut and black sugar and applied by a lot of soy flour. It is wrapped by a cloth wrapper one by one with a wooden pick. Therefore it is nice we are able to eat it wherever we want. By widening the cloth wrapper, soy flour is prevented from being scattered. It is said Steve Jobs was also a fan of Aono sweet when he was alive.
Shop Information
赤坂青野 赤坂本店 (あかさかあおの) – 赤坂/和菓子 [食べログ] https://tabelog.com/tokyo/A1308/A130801/13002803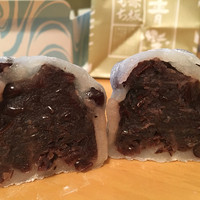 Akasaka Kakiyama producing a rich feeling by a package colored by black, gold, and silver.
As a gift for people who don't like too sweet, Arare (very small rice biscuits) and Osenbei (rice crackers) are suitable. "Kakiyama select" from Kakiyama Akasaka is packed in the black can with gold and silver pattern. It is nice this looks rich but not too lovely like a pastry. It must have pleased foreigners too.

Shop Information
柿山 赤坂総本店 (赤坂柿山) – 赤坂/和菓子 [食べログ] https://tabelog.com/tokyo/A1308/A130801/13125817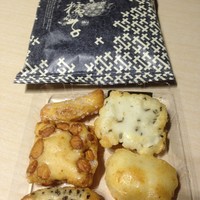 Libertable has a lineup of stylish baked sweets
This is a stylish shop with a fair-faced concrete wall which is a little bit different from a general sweet shop style. We can feel their peculiar tastes on the arrangement of sweets in a showcase and it actually makes us strained. I would recommend a cake if you just want to bring it out to a nearby place, however, the most recommendation is a madeleine including truffle if you would like to choose bit longer-life sweet. They sell bread as well, so Elly always buys croissant for herself every time she visits there.

Shop Information
リベルターブル (Libertable) – 赤坂見附/ケーキ [食べログ] https://tabelog.com/tokyo/A1308/A130801/13160987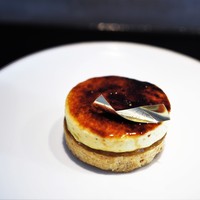 Shirotae you can't which to take, puff or cheesecake
Old shop Shirotae selling pastry was founded in the 70s. What I always buy as a gift at this shop is cheesecake or puff. I always can't decide which to buy. However, I mostly buy puff if the number of guests is large. There are many people buying several ten puffs, so you should make a reservation in advance. I would recommend baked sweets as well.

Shop Information
西洋菓子しろたえ 赤坂 – 赤坂見附/ケーキ [食べログ] https://tabelog.com/tokyo/A1308/A130801/13002850